With a deep commitment to quality, compassionate care Texas Health is bringing the resources and convenience of one of the largest health systems in north Texas to our community. We've completely redesigned the traditional urgent care experience to get you the care you need, when you need. Here are a few of the ways we are putting your needs first:
Hours That Fit Your Schedule
Our centers are open 8am to 8pm, 7 days a week, 365 days a year. We understand that injuries and illness don't take holidays off, so neither do we. When you need us, we'll be ready!
Clinical Concierge
When you arrive at a Texas Health Breeze Urgent Care, you will be greeted by your own clinical concierge, who will be with you during the entirety of your visit. From getting you a cup of hot tea, to showing you to your exam suite, to answering any questions you may have, your clinical concierge is there to give you the personalized attention you deserve.
In and Out in Under 30 Minutes
You're busy. We get that. Which is why we've gone to great lengths to ensure an efficient, comprehensive experience. With an average time of 30 minutes from when you arrive to when you leave, we can get you feeling better and back to life faster.
Leave with Medications In-Hand
Every Texas Health Breeze Urgent Care is equipped with an on-site pharmacy kiosk stocked with many commonly prescribed medications, likely saving you an extra trip to the pharmacy.
Transparent Pricing
At Breeze Urgent Care, we offer transparent pricing that helps you know what you'll pay upfront - without any add-ons or hidden fees. In most cases, your cost will be the standard urgent care copay outlined by your insurance provider, often $50 or less. If you do not have insurance, we offer a flat-rate price of $205, which covers most everything. See the list of accepted plans.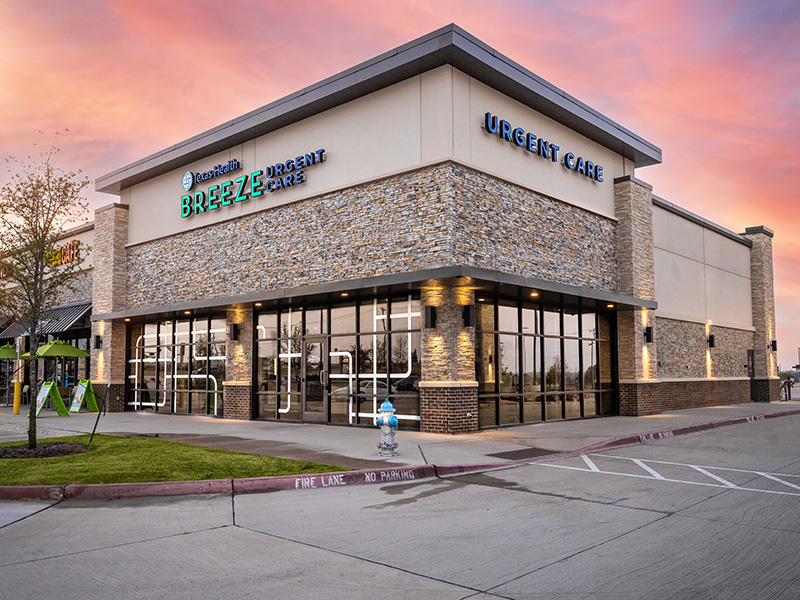 Convenient Locations
Ready to experience the Breeze difference? Search a location nearest to you for fast quality care.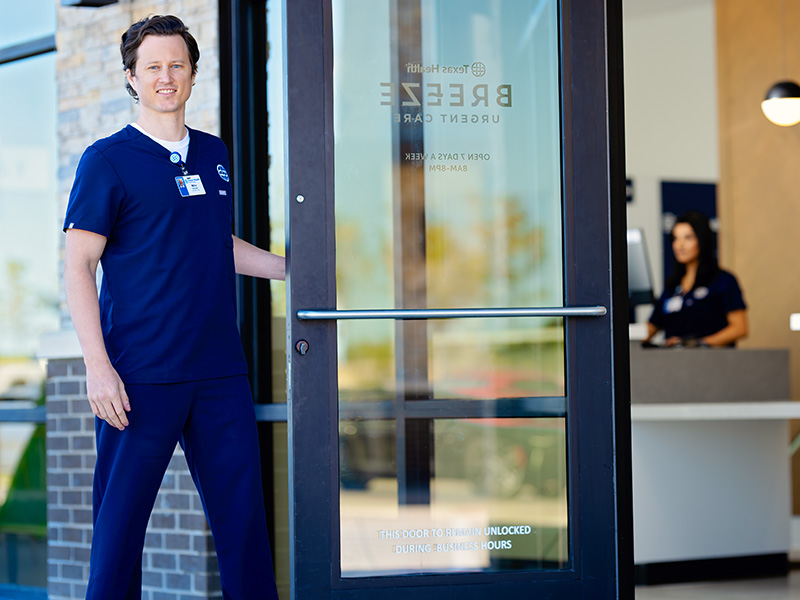 Check Out Urgent Care 2.0
We've completely redesigned the traditional urgent care experience to get you the care you need, when you need it. Take our short virtual tour to see what you can expect when you visit one of our centers.


Is it an Emergency?
If you are experiencing any of the following symptoms, please call 911 immediately.
Shortness of breath
Severe trauma or bleeding
Severe abdominal pain
Drug overdose/accidental poisonings